Morrisville, NC 2/18/19 –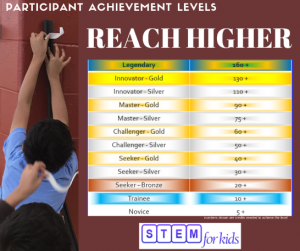 Introducing STEM PAL… Participant Achievement Levels. Children enrolled in STEM For Kids summer camps, trackout camps, afterschool programs, STEM Saturdays and other regular classes can now earn credits. These credits propel the child towards acquiring higher levels of achievement in STEM.
STEM PAL is aimed to motivate participants and celebrate their ongoing quest to acquire STEM knowledge and expertise. Based on participation, research, collaboration and application, children can go from Level 1 (Novice ) to Level 12 (Legendary).
All STEM curriculum are eligible for credits. STEM For Kids comprehensive portfolio of curriculum includes coding, engineering, health sciences, business and robotics.
Children who register with us for programs beginning January 1, 2019 or later are automatically enrolled into STEM PAL. Parents can see additional details on our FAQ page.
Learn more about the eligible programs being offered – weekend classes, summer and track-out camps and afterschool programs – by contacting your local STEM For Kids' company or franchise representative.  Visit stemforkids.net to see our program locations or request programs at your location by visiting stemforkids.net/inschools.
---